BOOK YOUR COURSES ONLINE NOW!!
Nick Peck Tennis Coaching
Nick Peck Tennis offers quality professional tennis coaching for adults and children from the age of 3 up.
Coaching is provided for all age groups starting with our Parent & Tots sessions all the way up to top club level adults. Different level groups and pathways are provided for all players to improve their tennis, whatever age they take up the sport. Use our location selector above to view dates/times and prices in our various locations.
We are based at three tennis clubs in the Cambridgeshire and Bedfordshire area - St. Neots, Gransdens and Potton. We also provide tennis coaching to local primary and secondary schools in these areas. All of our coaches are DBS checked, First Aid trained and insured through the LTA or the BTCA. They boast a wealth of experience in working with players of all ages and abilities from beginner to county level. Our Head Coach and company owner Nick Peck is LTA Level 4 qualified, whilst our Performance Coach Scott Martin is LTA Level 5 qualified. We also have other coaches qualified to Level 1 & 2.
Racket Stringing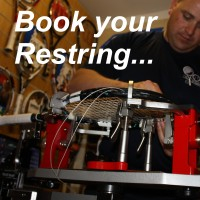 Nick Peck is a fully qualified Professional Racket Stringer with the ERSA (European Racquet Stringers Association). Nick became fully qualified in 2017 but has been stringing tennis, squash and badminton rackets for 4 years and was trained by stringers from the Wimbledon, French Open and Australian Open Stringing team.
To book a restring for your tennis, squash or badminton rackets please visit our Stringing page where you can book online. If you require advice on strings, tensions or rackets look no further, we are more than happy to pass on our knowledge.