Book a Racket Restring by Nick Peck Tennis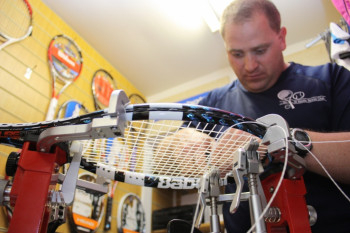 Nick Peck is a Professional Stringer, qualified with the European Racket Stringers Association (ERSA). He has been trained by some of the top stringers in the country.
Nick Peck Tennis offers a professional racket stringing and maintenance service for tennis, squash and badminton rackets.
Our Services:
Racket stringing
Grip replacement (all rackets)
Grommet/grommet strip replacement
Grip resizing
Racket customising
String and tension advice is all part of the package and included in the price.
To book a restring please fill in the form below, selecting your string if known.
If you require any of our other services please contact stringing@nickpecktennis.co.uk.
Your rackets can either be dropped at St Neots Tennis Club / Gransdens Tennis Club when I'm there (please ask for times), or to my office in St Neots.
We aim to string most rackets within 2-3 days.
By placing all bookings you accept that there is a danger a frame can break during the stringing process. This is very rare and if there is any doubt about structure of the frame you will be contacted prior to any restringing attempt.
Nick Peck Tennis cannot accept responsibility if a frame does crack during stringing.
Copyright ©2021 Nick Peck Tennis. Trademarks and brands are the property of their respective owners.
Use of this website constitutes acceptance of the Nick Peck Tennis privacy policy.